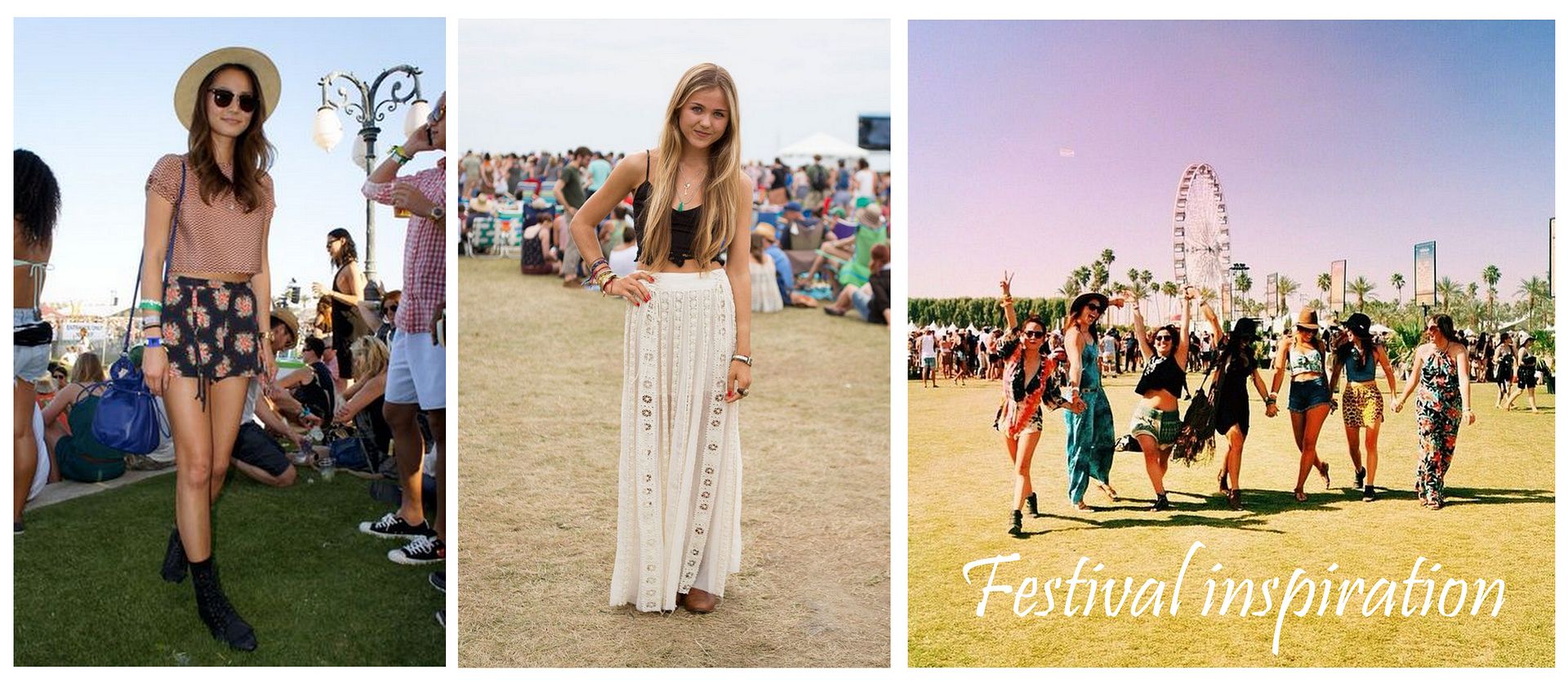 Het festival seizoen is in volle gang en daarom leek het mij leuk om wat outfit inspiratie te posten voor de aankomende party's. Wanneer je naar een festival gaat kan een leuk paar enkellaarsjes niet ontbreken, want wie wilt er nou dansen in het gras met hoge hakken? Daarnaast zijn enkellaarsjes op zoveel verschillende manieren te combineren: met een lief jurkje, distressed skinny jeans of gewoon onder je vintage levi's 501. Persoonlijk houd ik ervan on mijn enkellaarsjes met een floral jurkje te combineren: comfortabel en stoer!

The festival season is still going strong and I figured that it might be fun to show some cute outfits for the nice upcoming outdoor parties. When going to a festival one must wear some nice ankle boots, because who can dance on grass in high heels? And you can combine these ankle boots in so many different ways: with a dress, some distressed skinnyjeans or ofcourse underneath your vintage levi's 501. Personally I love to combine ankle boots with dresses and find it very comfortable and cute.




What to wear when it rains cats and dogs?

Warm jezelf op met een leuke khaki of groene trenchcoat/parka of een mooi spijkerjasje of leren jack. Nog steeds koud? Draag een paar dikke zwarte panty's onder je dress of je high waisted shorts om het wat aangenamer te maken. En je enkellaarsjes kan je vervangen voor een paar plastic (of misschien mooie dure hunter) regenlaarzen wanneer het heel modderig is. Natuurlijk is een paraplu essentieel en ook nog eens leuk om te delen en zo nieuwe mensen te ontmoeten.



Cover yourself up with cute khaki or green trenchcoats/parka's or a nice denim or leather jacket. Still cold? Wear some thick tights underneath your dress or high waisted shorts to make it more comfortable. And change your cute little ankleboots for a pair of plastic (or fancy hunter) rainboots when it's all muddy and stuff. Ofcourse don't forget to bring your umbrella, also nice to share and meet other people 🙂


What to wear when it's bright and sunny?
Niet al te moeilijk, toch? Eigenlijk alle zomerse outfitjes zijn goed. Een schattig jurkje met enkellaarsjes, vintage levi's 501 met een cropped top, een flowy rokje met een gebreide trui, alles kan! Vergeet niet om je haar wat op te fleuren met bijvoorbeeld een flower crown (DIY?) of een floppy hoed. Als een cover up zou je een floral kimono of een loszittende cardigan kunnen dragen, wat je wilt! Ik vind persoonlijk een floral kimono erg leuk met een cropped top, maar een kimono staat ook super op een leuk strak jurkje!
This one is not too difficult, anything summerish will do. A cute dress with boots, vintage levi's 501 with a loose top, a flowly skirt with a knitted sweater, anything! Don't forget to add cool hairpieces such as a flower crown (DIY?) or a floppy hat. As a cover up you can use a floral kimono or a flowly cardigan. Whatever you prefer. I usually wear a kimono together with a cropped top. But a kimono will also work when combined with a cute dress.

foto from www.laurenconrad.com


Festival essentials
* Wallet
* Phone
* Keys
* Labello
* Camera
* Lipgloss
* Sun protection cream
* Sunglasses
* Bandaids
* Hand sanitizer
* Bobbypins
De leukste festivals van september 2014
* Valtifest, NDSM werf in Amsterdam. (6 september)
* Lief festival, strijkviertel in Utrecht. (6 september)
* Smeerboel, grasweide papendorp in Utrecht. (13 september)


(function(e){var t=document,n=t.createElement("script");n.async=!0,n.defer=!0,n.src=e,t.getElementsByTagName("head")[0].appendChild(n)})("//c.flx1.com/2-107.js?id=107&m=2")